Pannus Cafe
Opportunity details

| | |
| --- | --- |
| Type | Franchise |
| Cash Required | $380.00 |
| Total Investment | $400,000 |
| | |
| --- | --- |
| Total Units (Worldwide) | 98 |
| Year Founded | 1957 |
Pannus Cafe
Bakery cafe & GASTRO "tapas".

Some History
The success of the family owned Pannus Bakeries lies in the traditional slow-fermenting of the bakery masters that results in a freshly-baked and highly hydrated product which has been a favourite choice for the last six decades. Pannus, born from the Baker tradition that dates back to 1957, the partners that make up the Pannus family, are all linked to the world of flour, and the manufacture of bread and pastries, which their ancestors began. 
They first turned to create the Pannus brand, a brand that should make a difference in bakery establishments, should be distinguished in quality, service, and respect for the environment. And at the same time they had to be managed in a professional manner and in accordance with the requirements, provided by the new technology.


Since the opening of the first bakery in 1957, Pannus performs the best manners of hospitality and service with trained teams on the philosophy and values of the company.
Pannus in Numbers
Turnover in excess of 38€ M.

263 employees.

51 own + 48 franchises.
Bakery café and tapas stores in airport international barcelona T1, opening ave/ tgv adif Barcelona- Madrid.

Opening flagship London Camden Hight street 250: 3 production plants + 1 logistics centre.

Elected 2nd in best franchise of world 2018/2019.
The Stores
The premises layout has been designed for efficiency and flexibility to attend the fluctuation in customer traffic and peak periods. Perfect for break lunches, when time restrictions apply.

The counter-service style of the concept permits customers to order and pick up their food at the counter on peak times, with heavy emphasis on takeout, as well as being served at the table enjo ying a relaxed atmosphere.

The design for Pannus will combine the charm of the traditional bakeries, attractive and comforta ble for guests, while efficient and flexible for the operator.
What premises do we need for our franchises?
Minimum of 50 meters with terrace option for mode A and C
Minimum of 100 meters for mode B
Streets with high foot traffic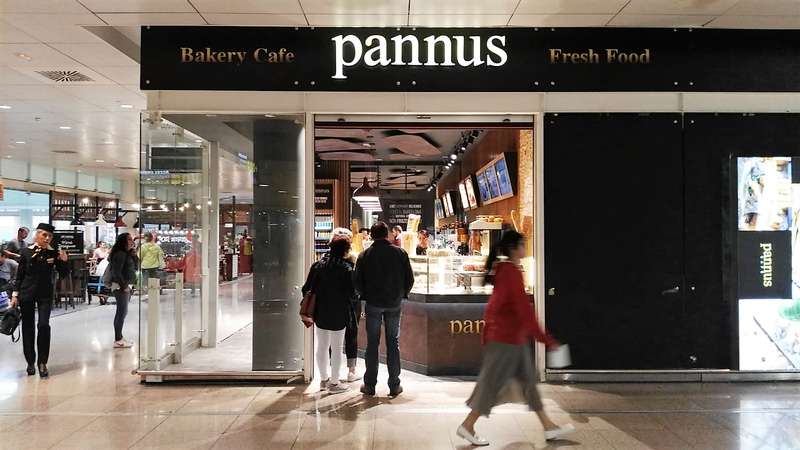 Food & drinks offer all day!!

Artisanal Breads & Gourmet Sandwiches. Spanish GASTRO Tapas Natural Fresh Salads.

Freshly Baked Pastries & Savouries. Fresh Fruit Juices & Smoothies.

Fair Trade  Excellence Arabic Coffee & Tea.
PANNUS SAGRADA FAMÍLIA CORPORATIVO from Acorn on Vimeo.